Why are we cool? - First Marketplace with TAILORED PRICING for multiple merchants in the WORLD!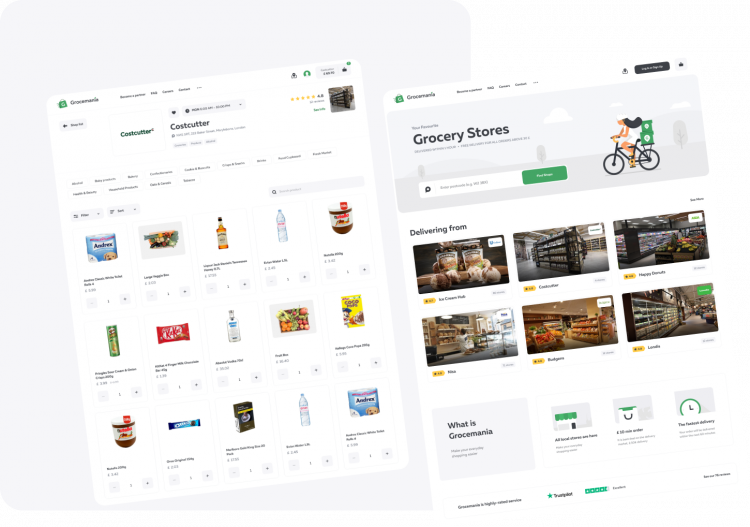 For clients
Grocemania is an on demand grocery delivery platform, which allows customers to find and shop from local grocery retailers and get their orders delivered in minutes for only 2.50! How does it work? Pretty easy, just download our app or visit the website, insert the postcode for delivery and order from any local store within 3 miles radius without any minimum spend! That's all, one of our couriers will bring it right to your door in as little as 30 min!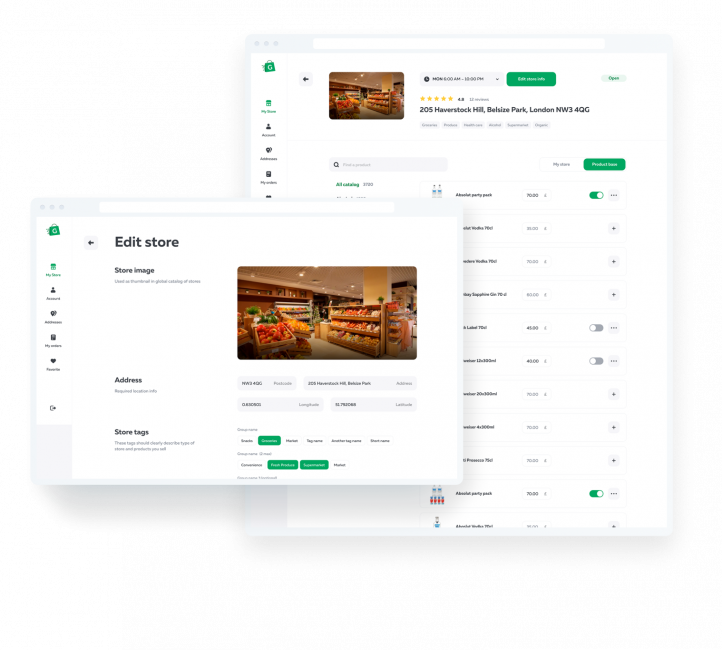 For store owners
Our software allows businesses to have a 24/7 control over the stock, all incoming orders and store listing. Retailers can set or modify their pricing at any point, which will be reflected simultaneously on our user platforms. Through multi-pricing, the business owner has the freedom to offer products to various chains at prices they find fit.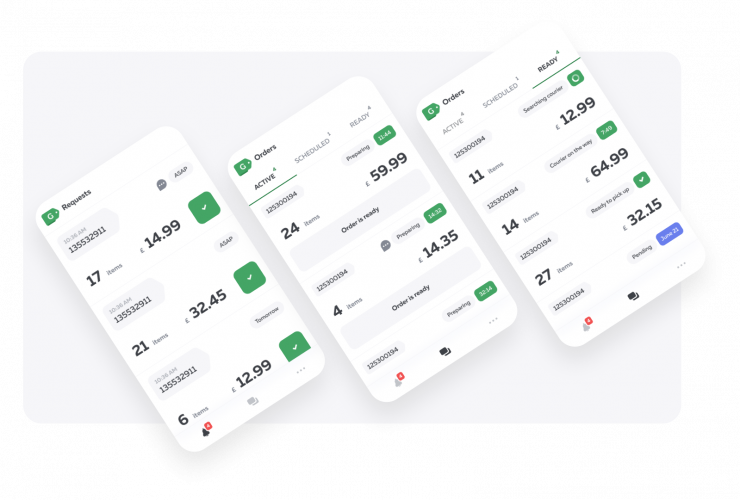 Our 'Order Management' app and POS terminals we hand to every partner allows business owners to get an order notification, delivery address, date, and time. When an order is ready, the shop changes the status of purchase into 'The order is ready' and a search for couriers with the help of integrated Shipping Stuart starts.
Courier Gateway - Connect and launch with any courier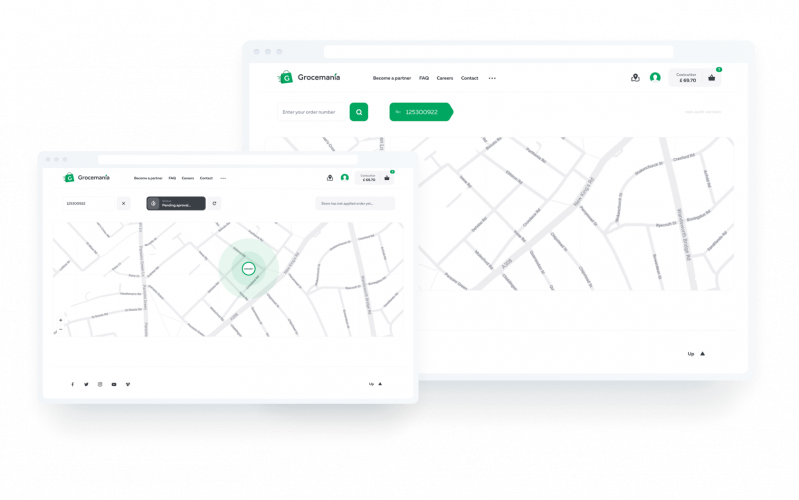 There is an opportunity to track a courier with the help of API Shipping Stuart on the website. If a user is signed in, their orders are automatically displayed on the map. In case a user isn't signed in, they can enter the order code to see the courier's route. We created an opportunity to connect any delivery service to the website or the app via API.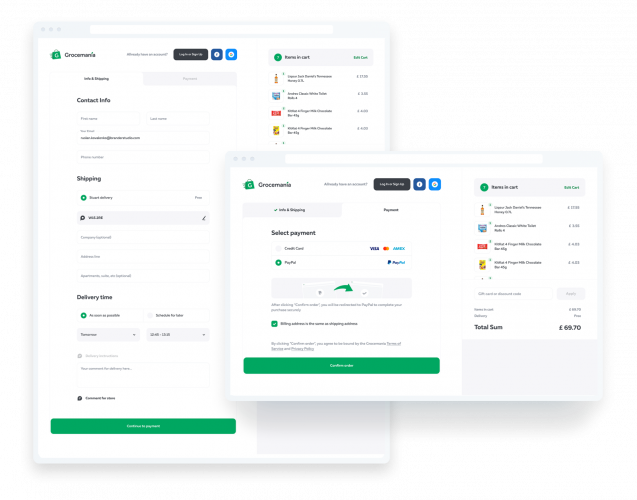 We integrated Stripe payment gateway. We chose this payment gateway because it can be easily connected to CMS, provides immediate payment and refund, enables flexible settings of payment terms for customers, has a high security level, and allows unauthenticated transactions.
Brander - in business in digital space in heart
Searching and finding
Our mission is to search and find – find growth points, cause-effect relationships, promising projects, gifted people. We grow together with our clients and build up a joint success story, analyze each and every pixel, bite and symbol, sift out business models and solutions through a sieve of common sense, and speak frankly.
10+ years of history
Brander has developed over 700 web and mobile projects. In our portfolio we have successful cases of mobile development, e-commerce and startups. We understand that every single client yearns for a unique solution – development and marketing are just tools for creating it. We know, where to disintegrate to smaller particles, and where to think globally.
Born to shine
We started in 2009 as a creative usability studio. Every new year, each new client was a challenge, that pushed our development. Now we are Brander, an experienced team of developers of business solutions.
Mobile applications
We will deliver your project to every single smartphone, as a research done in 2018 proves that more than 60% of everything is bought online using mobile devices. We develop apps for any business need, ensuring a full cycle of development – analysis, design, iOs and Android development, backend, testing, release and promotion.
Web development
Security, stability, functionality and appearances – these are the underlying principles for our web development. We create websites for major companies, fully informative promotional landing pages and web services of high functionality. We provide technical support and enhance projects of any level.
Digital marketing
You see only the top of an iceberg, but our team of marketing experts know what's under the water. We research into the competitors and the target audience, develop a strategy. Take the next step – streamline promotion channels and launch advertising campaigns. And the next one – refine the brand image with sophisticated content.
Ecommerce
We have been developing business solutions for e-‍commerce for 9 years so far, doing our best to make online shopping a real treat. We create a unique design and work thoroughly on UX, choosing together – a powerful engine Magento, customized development or maybe a speedy mobile application. We help streamline business processes and launch marketing.
Startups
An idea turns into a business, when a team of experts are working on it. Launching a startup is a challenge and we are ready to rise to it. We research into the market and competitors, upgrade the business model, develop an all-time upmarket product and bring it into the market, backing it all up with persuasive content and promotion.
Design
Designers in Brander take account of every single detail – user behavior, psychology, form and content, logic and visibility. We design sophisticated interfaces, develop corporate style for the projects. Our UX\UI is not only beautiful, but meaningful as well.
Like what you have seen? Click a button below and we will get in touch
Become a partner